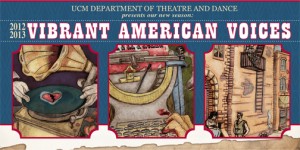 (Warrensburg, Mo.) – American playwrights are the focus of the 2012-2013 production season at the UCM Department of Theatre and Dance.
The season's theme is "Vibrant American Voices" and features a musical, a comedy, a thriller and a classic – all written by American playwrights. The schedule also features an Americana-inspired dance concert.
Season tickets are $50 for the general public, $45 for UCM faculty and staff, and $30 for UCM students. A season subscriber receives savings, choice seating, ticket insurance and exchange privileges.
The season opens with Bob Martin and Don McKellar's musical, "The Drowsy Chaperone." The musical is about a middle-aged, agoraphobic, Broadway fanatic who reminisces through his favorite musical from 1928. As he plays his favorite soundtrack the characters come to life in this Tony award-winning play. The "Drowsy Chaperone" runs Oct 3-7 in the Highlander Theatre.
The second production, "The Blue Window," is a contemporary comedy by American playwright Craig Lucas. The play provides a glimpse into the lives of seven characters as they wisecrack and laugh their way through an evening dinner party in New York City. "The Blue Window" runs Nov. 13-17.
Ira Levin's "Deathtrap" combines all the components of a thriller, horror story and a sophisticated farce. This "whodunit" runs Feb. 20-24, 2013.
"Louder than Words" is the title of the spring dance concert featuring UCM dance students reflecting the works of American literature and speech. The dance concert is March 8-9, 2013.
The season closes with the Pulitzer Prize winning "Street Scene" by Elmer Rice. It takes place on the front stoop of a New York City tenement building in the summer of 1929. The characters represent a cross-section of lower-middle class Americans as they labor to survive in America. Selfish politicians, greedy corporations and neighborhood violence rule the day.
Season tickets may be purchased by calling the UCM Department of Theatre and Dance at 660-543-4020.
Children under the age of 5 are not admitted to mainstage and studio productions.
[email_link]