Kordell Ballard is a recent UCM graduate who currently works full time as a systems coordinator on campus. Ballard is also involved with several media projects and is finishing post-production work on a short film titled "Journey of One." 
"Journey of One" is a fantasy film about a man who finds himself lost in a mystical forest and has to overcome obstacles to escape. Ballard acted as director and executive producer for the film.
"[Filming] was done over a year ago," Ballard said. "It's been a very long production process. If I was the sole one doing it, it probably would have been done sooner. But at the same token, we wouldn't have the quality of what we're doing right now."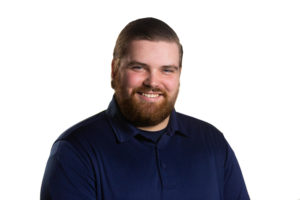 Kordell Ballard graduated from UCM in May 2019 from the Digital Media Production program. 
After graduation, Ballard applied for job after job before ending up back at UCM. He is now working on his master's degree.
Currently, Ballard is employed as a systems coordinator for the college of arts, humanities and social sciences. Ballard describes his job as "IT work."
Describing the post-production process, Ballard said, "See, the issue is that it is a bigger production than what I've done before. This is the first time I've had multiple independent studios working on it."
Recently, a colleague of Ballard's, Trevor Carter, finished scoring the film. Ballard thinks it sounds great. 
In addition, another colleague and UCM graduate, Cody Clemmons, is working with the sound for the dialogue. 
"But since it's not solely me, not being a one-man-band and doing it myself, it is a longer process. And that's kind of a neat experience to have, is that I don't have to have everything depend on me. I actually have other people who can do it better than I can."
After the dialogue is finished, Ballard plans to have a rough cut for the short film. The goal is for "Journey of One" to be done in time for the red carpet gala at the end of the semester. The gala is an event held for DMP students at the end of every semester to showcase the projects they have completed.  
"With a full time job and having to balance that with doing freelance work, video-wise, it's been strenuous." 
Ballard's other projects include working with a YouTube channel, his father's company, and several upcoming wedding shoots. 
Ballard also works on a variety of projects for UCM's esports team, which he sometimes does after he gets off work.
For picking up projects to work on, Ballard says, "It's just a matter of how intense it's going to be and how time consuming it's going to be."
Ballard relates his struggles to the struggles that are depicted in his short film. "[It's] kind of why we made the film that we did."