(WARRENSBURG, Mo.) – Visitors to the Arthur F. McClure Archives and University Museum can catch a glimpse of athletic history at the university with a new exhibit titled, The Legacy of UCM Athletics.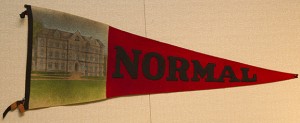 Taken from collections of the archives and museum, the exhibit will be on display through UCM's homecoming celebration, planned for Oct. 15. The exhibit features photographs, documents and memorabilia that document the growth and development of intercollegiate athletics at UCM.
In addition to regular hours, the archives and museum will be open from 10 a.m.-2 p.m. Saturday, Sept. 8, during UCM's annual Get the Red Out celebration. Visitors can view the exhibit prior to attending the UCM Mules football home season opener vs. the Northwest Missouri Bearcats.
The museum and archives is also hosting its third annual "Ask a Curator Day" Saturday, Sept. 8. In addition to information about historic objects or documents brought in for evaluation, visitors may obtain copies of back issues of "The Rhetor," the university yearbook, free of charge. These yearbooks are part of a large number of surplus university yearbooks that have been stored by the museum and archives over the years.
Experts will be on hand to discuss the objects participants bring in for evaluation from 10 a.m. to 2 p.m. in Room 1470. While no appraisals, values or advice about the sale of items will be offered, the experts will be glad to answer questions about the origin and age of an object, as well as the best methods of preserving items for future generations.
Among those sharing their expertise will be Jeffrey Yelton, UCM associate professor of anthropology, who will be available to evaluate archaeological and American historical items.
Charles Machon, historical services coordinator for the Missouri National Guard and director of the Missouri Museum of Military History, will provide information about military items, and Amber Clifford, UCM assistant professor of anthropology and curator of the McClure Archives and University Museum, will offer information regarding textiles, clothing and cultural/ethnographic items.
Vivian Richardson, university archivist and assistant director of the McClure Archives and University Museum, will be on hand to evaluate and offer information on photographs, paper items and ephemera.
In the event further details are requested, the curators will provide referrals for additional information about an item.
The event is free and open to the public.
The Arthur F. McClure Archives and University Museum is located in Room 1470 at the James C. Kirkpatrick Library. The museum also utilizes adjacent display space in the public areas of the South Read and Relax area on the first floor of the library.
The archives and museum is open to the public, free of charge, from 8 a.m. to 4:30 p.m. weekdays when the university is in session. For more information about donations to the archives or upcoming exhibits, contact Vivian Richardson, assistant director, at 660-543-4649.
[email_link]