(WARRENSBURG, Mo.) – Clothes ranging from pajamas to prom dresses hang in Room 238 in the Elliott Student Union this week.
The clothes are part of the "What Were You Wearing?" Survivor Art Installation presented by the Title IX office at UCM and several other sponsoring organizations. The articles of clothing are accompanied by 21 statements from survivors of sexual assault that explain what they were wearing when a sexual assault occurred.
Brody Glidden, a graduate student with a practicum in the Title IX office, said the statements are from survivors at universities and colleges across the country. He said he worked with the University of Kansas to set up the installation and pick the survivor statements.
"They emailed me their entire installation packet and it was fifty stories that we could choose from, so I chose 21 of the ones that were really a diverse selection – so there's males, there's females – because we know sexual assault is a human thing, not just a certain gender," Glidden said.
Glidden said 20 organizations sponsored the installation. The sponsoring organizations picked the clothing used in the exhibit based on their designated survivor statements.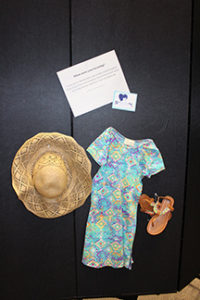 Glidden said it's a silent exhibit. "Obviously people might go in with other people, but the impact is to really read the stories and connect it back with the saying 'What were you wearing?" he said. "We're trying to move away from blaming the victim based off of what they were wearing, and so this entire exhibit is to give survivors the opportunity to really take back what is theirs."
He said being asked the question "What were you wearing?" can be very intrusive to some survivors. There's a display explaining why investigators might ask that question at the exhibit along with other educational information.
The exhibit will be on campus from April 20-25 in Union Room 238 and is open to the public during the Union's normal business hours.