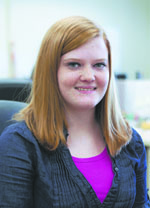 by ELLEN BECKER, Managing Editor
The back-to-school rush has begun and fresh faces can be seen throughout the halls and sidewalks.
Move-in day was Sunday, and as most of you know, that means busy streets, packed stores and crowded restaurants. I've lived in Warrensburg my whole life, and it's a pretty quiet town during the summer. However, when students start making their way back in August, it's quite the opposite.
My parents live near a UCM dorm and I can remember getting trapped at home when students and their parents would park all the way down both sides of our street and block our driveway during move-in day. When I was younger I used to say "Ugh! The college kids are back." But as soon as I became one of those college kids, I had to stop complaining.
Now I find myself sympathizing with those college kids. I remember how nervous I was the first day of classes and the terror I felt when I walked into the wrong classroom. I remember feeling very small in such a big sea of people as I walked through campus.
But, five years later, I'm in grad school and have become quite comfortable in my role as a student.
I come from a long line of Central alumni. My great-grandmother graduated from UCM in 1913. Back then, it was called State Normal School. My grandpa graduated in 1946, when it was Central Missouri State Teacher's College.
My parents met on campus in 1973 when it was Central Missouri State College, and both graduated a few years later when it was Central Missouri State University. Since then, I've had numerous aunts, uncles and cousins graduate. I joined my family's legacy in 2007 at the newly renamed University of Central Missouri, and graduated with a bachelor's degree last December.
My degree is in broadcast media, and journalism was my minor. I began writing for The Muleskinner in 2010, and soon after, I became the assistant news editor. In January 2011, I became the news editor, and this will be my first semester as the managing editor.
As comfortable as I feel as a student, I have to admit that I'm feeling slightly nervous about starting the journey of managing editor.  Luckily, my excitement outweighs my nerves, and I am looking forward to a great fall semester.
So if you are feeling stressed or nervous about starting college, just remember, you're not alone. We've all been there, and soon you will get into the swing of things and find your place. Welcome to UCM.
For all of the returning students, grab a coffee at Jazzman's or Einsten's, pick up a Muleskinner, and get ready for another exciting semester.