Everyone has a story, and we want to share those stories with the University of Central Missouri community.  Join Abram Tabor every Wednesday and Saturday at 7 p.m. for "Voices of UCM" to learn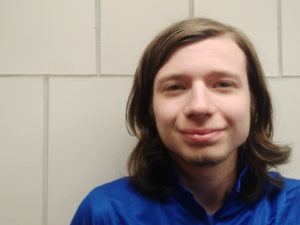 more about University of Central Missouri students, faculty, staff and alums.
Abram Tabor serves as news director for The Beat. He is a senior Digital Media Production major with an emphasis in digital journalism.  Abram also writes for the university's award-winning student newspaper, the Muleskinner.
Season 2 (with Abram Tabor)
Meet our new host, Abram Tabor. In this first episode of season 2, Abram visits with Jolene Watson. Jolene is an assistant professor of science and technology, and faculty advisor for ASQ at the University of Central Missouri.
In this episode, Abram interviews Katie Kim, a 2019 UCM Alumnus in International Studies who is currently on staff with Navigators International Ministries. They discuss Katie's own time abroad, how the things she's learned relate to ministry, and how students can better get connected with international students on campus.
Dennis Pearson is a self-proclaimed life-long-learner. At 72 years old, he is a UCM student who has served as a fire fighter EMT, as a combat medic, flight medic, and Army LPN. He visits with Abram about his experiences and about volunteer opportunities.
Rachel Becker graduated from Truman State University in Kirksville, Mo. and then found her way to Warrensburg for grad school. She is earning her master's degree in mass communication while also serving as managing editor of UCM's student newspaper, the Muleskinner. She is the subject of this week's edition of "Voices of UCM".
Abram is joined in this episode by Ethan Hill. Ethan is a senior digital media production major at the University of Central Missouri, president of the Melies Society, and a member of the Media Creators Association.
This week, Dr. Joe Moore interviews Abram to interview the UCM-The Beat news director to our audience.  Abram shares the stories of members of the UCM community each week.  This week it is time to learn more about Abram.
This week Abram visits with Dr. Shari Bax, vice president of student experience and engagement and a professor of political science.  The discuss the midterm elections and the impacts they may have on UCM and the community.
Universities cannot function without financial support from alumni and donors.  Enter Tyler Habiger, director of annual giving in the UCM Alumni Foundation. Abram visits with Tyler this week on "Voices of UCM.
Gregory Burns joins Abram for this week's Voices of UCM to talk about why Greg chose to come to UCM, his experience competing in game jams and the goal of his radio show, "Chattin' it Up", as well as his recent goal of developing his skills in digital art.
In the first episode of spring 2023, Abram visits with Owen Bruns.  Owen is a community member at the Newman Center on campus and a senior in the Harmon School of Business.
Rico Jordan joins the show this week.  Rico is assistant campus minister at the University of Central Missouri Christian Campus House on campus.
China Pryor is student president of the Association of Black Collegiates at the University of Central Missouri.   She joins Abram for "Voices of UCM".
Nicholas Strathman joins Abram this time around.  Nicholas is a history major at UCM.
Students in digital media production would be lost without Darin Plummer.  Darin is the broadcast systems engineer in the department of communication and digital media and is responsible for maintaining and training on all the department's AV equipment.
Season 1 (with Olivia Gibbs)
In this inaugural episode of "Voices of UCM", host Olivia Gibbs sits down with Morgan Starbuck.  Morgan was instrumental in the University of Central Missouri's push to set a world record with the most live mules in a single parade.  Hear her story!
In episode 2 of "Voices of UCM", Olivia Gibbs visits with Beth Rutt. Rutt is the director of student activities at the University of Central Missouri. She has also served on the Warrensburg School Board and Warrensburg City Council. Hear her story on this episode of "Voices of UCM".
Gina Goff is a University of Central Missouri alum who graduated with a degree in criminal justice. After a turn as a paralegal in Kansas City, Gina caught the movie bug and decided to move to LA to pursue a career in the film industry. She now owns her own film production company. She sat down with Olivia Gibbs in this episode of "Voices of UCM".
Danielle Sachse graduated from the University of Central Missouri with a double major in musical theatre and digital media production and a minor in sports broadcasting. She is currently a news reporter for KQTV in St. Joseph, Mo. and color commentator for Missouri Western basketball.
Olivia Gibbs got a chance to catch up with her former classmate and chat in this week's episode of "Voices of UCM".
Michael Giovannini came to UCM to fly helicopters.  Even though he didn't get to fly helicopters, he stuck with the aviation degree.  He also became a drum major for the Marching Mules, spent time in the military, served as a college admissions professional and today is director of safety for the Denver Air Connection. He is the special guest this week with Olivia on "Voices of UCM".
This week Olivia visits with Don Kennedy, UCM senior admissions counselor.  Don graduated with bachelor's and master's degrees in physical education.  He's a former softball coach and player, and is a wealth of knowledge about the University of Central Missouri.
Kellie Nolan is a UCM alum and the lease contracting officer for the General Services Administration.  The GSA is an independent agency of the United States government established to help manage and support the basic functioning of federal agencies.  Kellie is this week's guest on "Voices of UCM."
The #MeToo movement has gained a great deal of attention recently. The Women, Gender and Sexuality Studies program at the University of Central Missouri is hosting a MeToo Speak Out to further raise awareness. Olivia visits with Tad Miller in this week's episode.
Content Warning: Some material may be sensitive and difficult to hear for victims of sexual assault and sexual abuse. If you or someone you know has been the victim, consider calling the national sexual assault hotline at 800-656-4673.
Olivia scored some brownie points this week by interviewing one of her professors, Dr. Mark von Schlemmer.  Not that he isn't worthy of an interview; Mark is an Emmy Award winning film editor with numerous credits to his name and also an accomplished professor of film studies, digital video editing, and narrative production.
Olivia switches it up a little this week. Rather than sharing the stories of others in the UCM community, Olivia shares her own story–how she came to UCM, what her experience has been like at the university, and her plans for the future.
On her next-to-last episode, Olivia decided to bring in a couple of her best friends to relive some of their fondest memories, discuss why they chose UCM, and look ahead to their respective futures.
In this final episode of season 1 of "Voices of UCM", Olivia interviews Chris Holmberg. Chris is an alum of the University of Central Missouri digital media production program. Since graduating, he has come back for a master's degree, worked in welding, served as a para in the Warrensburg School District, and now is putting his degree to use in marketing and communication at Western Missouri Medical Center in Warrensburg. Hear his story!