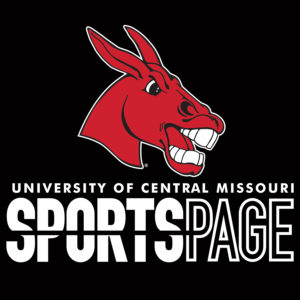 Want to get to know some of the student-athletes, coaches, administrators and support staff instrumental in University of Central Missouri Athletics?  Want to know what is coming up with the Mules and Jennies?  Tune in every Thursday and Saturday night at 6 for "Sports Page" with host Nick Distefano.  You can also catch archived events by clicking on the links below!
Nick Distefano graduated from the University of Central Missouri in the spring of 2021 with a bachelor's degree in Digital Media Production.  He is now a graduate student studying Mass Communication.  In addition to serving as host of "Sports Page", Nick is the Voice of the Mules and Jennies for The Beat at various UCM sporting events and as vice president of the UCM Radio Club.
Nick visits with Crystal Meeks, associate head athletic trainer at UCM, and with Darin Plummer, broadcast systems engineer and instructor for UCM's sports broadcasting courses.  He also provides a preview of the week ahead in UCM Athletics, Feb. 10-17, 2022.
It's media day on Sports Page. Nick Distefano chats with Ryan Anderson, athletic media relations manager at the University of Central Missouri and then visits with Charlie Martin, manager and social media supervisor for the Jennies soccer team. Nick also provides a preview on UCM Mules and Jennies athletics for Feb. 17-24, 2022.
Mules basketball is the focus this week on "Sports Page". Nick Distefano visits with head coach Doug Karleskint and senior Gavin Pinkley to learn their stories and get their thoughts on the 2021-2022 season.
On this episode of Sports Page, Nick visits with Jennies head basketball coach Dave Slifer as his team readies for the MIAA Tournament. Nick then sits down with new UCM volleyball head coach Caitlin Peterson before providing a preview of the upcoming UCM sports schedule.
Nick sits down with interim Mules wrestling coach John Feeney (who produced a pair of All-Americans and one of the best UCM wrestling seasons in a decade), and UCM co-head track and field coaches Kip Janvrin and Kirk Pedersen.  Nick also previews the coming week's Mules and Jennies athletic schedules.
This week, Mules baseball takes center stage as Nick visits with head coach Kyle Crookes and senior pitcher Colin Jones.  Club sports also get some love, as fencing team captain Alana Golden.  Plus the upcoming UCM athletics action.
Mules head golf coach Tim Poe, senior golfer Matt Hoemann, plus (as usual) a preview of the next week in UCM Athletics. All on this seventh episode of "Sports Page".
It's another club week, as Nick visits with UCM Rugby Club captain Noah Bryan. Plus Jennies golf gets featured with head coach Chris Port and junior Rosie Klausner.
Jennies softball is on tap this week.  Nick visits with sophomore outfielder Makenzie Cooper and head coach Susan Anderson in this week's episode.  And of course, sports news and a preview of the coming week in UCM Athletics.
Ten weeks in the books on Sports Page.  This week track & field and women's bowling take the spotlight.  Nick visits with Mules pole vaulter Vincent Hobbie and Jennies multi-event athlete Hannah VanBuskirk.  Jennies bowler Jacqueline Garia-Ulloa joins the show in segment two, and in segment three, Nick shares what is on tap.
Nick gets a chance to interview a UCM icon, the first bowling coach in school history, Ron Holmes. In segment two he interviews new head football coach Josh Lamberson. And then Nick caps the show with a rundown of the week ahead in UCM athletics.