On May 2nd, 2020, the Warrensburg Farmers' Market opened for the season. Vendors and shoppers alike gathered next to the Johnson County Recorder, all ready to enjoy the fresh produce and kick off the summer season at the market.
Many consumers use the farmers' market as an outlet to support local artisans and farmers. According to Jill Purvis, Executive Director of Warrensburg Main Street, many vendors are dependent on their community's support. "A big majority [of vendors] rely on the farmers' market to sell their products," she stated.
The market was able to open while under the Johnson County stay-at-home order, as they were deemed an essential business. Warrensburg Main Street partnered with the Johnson County Health Department to create a plan to secure the safety of everyone attending the market.
During this time of social distancing, the market staff took the necessary precautions to ensure the good health of both their patrons and vendors. From limiting the number of entrances to providing hand sanitizer and masks, the staff is doing their part to keep everyone healthy.
"We go through and mark six-foot spaces in between customers at each vendor stand so that if you have to go in a line at a stand, you can stay six feet apart," Purvis explained.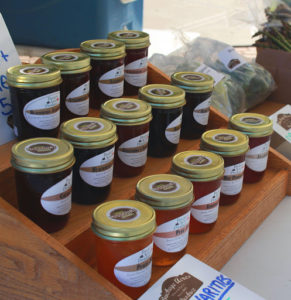 The market also refrained from bringing in live musicians and other special guests in order to reduce the amount of lingering in the market. "The goal is to get out, get what you need, and get back home," Purvis stated.
In order to bring fresh produce to everyone in the community, the market is developing a curbside pickup system for those who do not wish to enter the market. Shoppers would be able to order items from vendors ahead of time and be able to pick up their groceries during the Saturday market. The staff for the farmers' market hopes to have this system running within the next month.
The market is hopeful to bring in more shoppers, support their vendors, and help the community return to life as it was. In Purvis's words, "It kind of gives [the community] the sense and glimpse that life will be able to return to some sort of normal."
The Warrensburg Farmers' Market is open Saturdays from 8:00 a.m. to 12:00 p.m. For more information about their products and events, they can be found online at https://warrensburgmainstreet.org/farmers-market/. 
Photos provided by Maddy Harrison.