Monday, April 6th, 2020
Happy Monday!
First and foremost, I think the exam went well! The instructions were a bit odd and I'm pretty sure my Blackboard grade is no longer accurate (cons of moving to online schooling), buuuuut I know my answers were well thought out and correct. Fingers crossed I get a good grade!
I got to cross another thing off my list today! Today my sisters and I painted records for my bedroom and it was so nice! I have a little corner of my room dedicated solely to my record player and all my records, so I wanted to spruce up the area with a little decoration!
Here's what the records look like!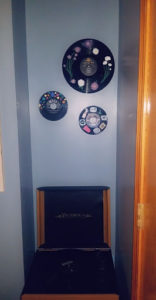 Tomorrow I find out for certain about the CommunityAmerica internship! I'm nervous and hopeful at the same time. I really, REALLY want this internship. I suspect I'll be refreshing my email quite a bit tomorrow. I'll be sure to let you all know what happens!
Have a great Monday friends!
-Maddy
Tuesday, April 7th, 2020
Refresh, refresh, refresh
I've been checking my email nonstop today, waiting to hear back about the internship. For most of the day, I wasn't getting anything from CommunityAmerica and I was starting to get nervous.
But then, finally! An email came! All jokes aside, my heart started racing as I opened the email. And it feels great to tell you all that I got it! Yay!! I'm super psyched about it. 🙂 
When I told my family, they were all so excited and proud of me, which just made it all the better. My family's support is truly one of the biggest motivators for me, now more than ever (which reminds me, I need to call my grandma and tell her, I know she'll freak out over the phone).
I start on Thursday, which is a pretty quick turn around for this kind of thing, but I'm still ready to get going! I'm really curious what the day to day activities will look like for me, but I'm sure to keep you all updated as I navigate it all! I'm going to get everything all set up tomorrow so I'm good to go on Thursday.
That's really all for today! Talk to you all tomorrow!
-Maddy
Wednesday, April 8th, 2020
Developing new skills
When I told my mom and dad I wanted to major in digital media production, they really had no idea what that meant. Frankly, there's not really a great way to define it. There's so much to digital media, which is the best part about it. You can work in graphic design, journalism, film, music, sports, advertising… I could go on for a while.
Since the beginning of the semester, I've been occasionally designing posters, flyers, and bulletin board pieces for my mom. She uses them to advertise stuff she does for the nurses at her hospital. It's really fun to design them, since it's a way to use the Photoshop skills I've been trying to develop since junior year of high school.
I know my way around Photoshop pretty well, but there's definitely a level of refinement I've yet to reach. Luckily for me, I got another flyer assignment from my mom! It's a really cute design and I think there's a lot of ways I can develop more skills in the software. It's also a really great way to take advantage of UCM's Adobe Creative Cloud offer.
Since we've gone online, us digital media students no longer have access to our beloved labs, which means we can't use the expensive Creative Cloud software on campus 🙁 Fortunately, UCM granted all digital media students free use of the softwares until May, so we can download them on our computer and do projects from home.
Though I technically don't need this software until next semester, I thought to myself, why not take advantage of it? Get a head start on learning the software you'll need to know for your future classes and career!
I think I'll start watching some tutorials over Photoshop, Illustrator, InDesign, and Premiere so that I can boost up my skills! There are millions of different videos out on YouTube about things you can do with these applications. If any of you reading know any helpful or interesting tutorials out there, be sure to let me know!
I'm so excited!
-Maddy
Thursday, April 9th, 2020
Day one
I had my orientation for the CommunityAmerica internship this afternoon! It was so cool to see how many people are involved right now. I think there were about 150 people at our Zoom meeting, which blew my mind. My new boss mentioned that nearly 400 people applied in total, so I consider myself extremely lucky to be a part of this group.
I got a little more insight into what my responsibilities will be for this six-week internship. Us interns will be giving feedback and suggestions about CommunityAmerica Credit Union, CACU for short, virtual services. I think I have a pretty nice advantage, seeing as I am a member of CACU and already use their online banking and website on a day-to-day basis (yay me!). Hopefully, that helps me have some more insightful ideas to contribute!
There's also a pitch contest at the end of the internship. We'll all be in different groups of seven working on a way to help the community during the COVID-19 pandemic, which is an awesome opportunity. As well as that, there's also a huge prize for the winning group! That's pretty good motivation right there.
Though I'm not going to get my hopes up and bank (haha, get it) on the idea that I could win, it's still a great motivator. Even if I don't, the skills I'm going to develop from working remotely is going to be a prize in and of itself.
Wish me luck on this internship journey!
-Maddy 😛
Friday, April 10th, 2020
Dear seniors,
Senior year was probably one of the most important years of my life. That's saying a lot, coming from a person that was not particularly fond of high school or getting involved (outside of choir, that is). Reflecting back on it now, I've realized I grew a lot as a person. I learned quite a bit about who I am and what I want, as well as gained more confidence in myself and my abilities (that doesn't mean I'm not my own worst critic, trust me, I still am).
Without that final year of high school, I doubt I would have ended up at UCM studying digital media production. I had a ton of extremely influential experiences that made me realize that digital media was my passion.
A lot of seniors from my former high school are posting about school being out for the rest of the year. It's heartbreaking, really. They've lost a lot of experiences. Final games. Senior nights. Band and choir concerts. Prom. Graduation. I can't even begin to imagine what that feels like. Though I definitely didn't have the most amazing senior year ever, I would feel pretty cheated if I was a senior right now.
So if there are any seniors reading, I'd like to leave you with this: I know that this wasn't the ending you wanted for this chapter of your life. But that's exactly it. This is just a chapter. You've still got the rest of your life to make some amazing memories. I know it's probably devastating, having all this taken away from you so suddenly. But you have the rest of the story to fill with crazy awesome experiences.
I like to believe there's always a plan- in my mind, God's plan, but believe what you prefer. Even though it doesn't make sense now and it's probably tearing you up inside, things are going to be okay. Things are going to get better. Wherever you end up next year, whether that's college, trade school, working, enlisting, taking a gap year, whatever, it's going to be an amazing experience.
I know I'm not the best pep talker or advice giver, but I hope this made some seniors out there feel better.
I hope you keep your head held high and keep staying positive. I wish you the very best of luck, in both the end of this year and your future endeavors.
-Maddy
Saturday, April 11th, 2020
Baking!
I really wanted to focus on writing about the seniors yesterday, but here's a little update for yesterday and today!
My grandma and two of my aunts surprised us at our house today! They took it upon themselves to bake homemade hot cross buns (I know the song popped into your heads) and deliver them to all of our extended families' households! I come from a pretty big family, which means we spread out pretty far around the KC area. My grandma and aunts drove to Kearney, Bates City, and everywhere in between. I can't even imagine how long they were in the car.
Still, it was so nice to see them. We talk a lot on the phone and on Facetime, but it's not the same. Of course, they didn't get out of the car and we practiced social distancing, but seeing and talking to them in person was the best.
In other news, we did make Easter-themed sugar cookies yesterday! They turned out super cute. My mom has the best sugar cookie recipe in the world, so we decided to share some with our elderly neighbor and my grandma! Here's what some of them looked like: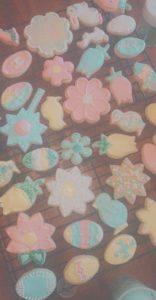 I also made pretzel bread for the first time! I was really nervous about it turning out badly, but I was pretty amazing. I got the recipe online and I highly recommend you try making it yourself (note: it goes really well with soup).
Easter is tomorrow and I know the whole family is excited. I hope you all have a great Easter morning!
-Maddy 🙂
Sunday, April 12th, 2020
Hoppy Easter!
Here's to the second holiday we've spent in quarantine! 
It was definitely weird not getting together with my extended family for Easter this year, but my little family made it a great day still!
We've got a lot of traditions that my parents started when my older sister and I were little girls that we still carry today. One of them is the big reveal of the Easter baskets. We put out our Easter baskets and stuffed bunny dolls the night before and then mom and dad fill them with little goodies. It's such a sweet tradition.
Then we have an Easter egg hunt all around the house. Since my younger sister is no longer a little baby anymore, the competition is fierce. There had to have been at least 80 eggs hidden around the house, but us three girls found them pretty quickly. Of course, being the best sister, I won 😛 After that, an Easter egg war broke out and we started throwing plastic eggs at each other (not your peaceful Easter morning, let me tell you that).
We mostly relaxed the rest of the day, played games, did a puzzle, and watched Some Good News. It's a really great series John "Jim from The Office" Krasinski has started on YouTube. Highly recommended! The show features good news shared on social media and news around the world. The episodes are so funny and uplifting. I even tweeted my grandma's hot cross buns journey to them!
All in all, it was not a bad Easter. A pretty great one, actually.
-Maddy