(WARRENSBURG, Mo.) – The phone rings at the Hidden Pines Country Club.
"Reflections on Pine, this is Samantha, how can I help you?"
Sam Crouch pulled away from our conversation and the dishes to take a to-go order. The club is busy for a Tuesday night, and all the employees are exhausted — including Sam.
The 36-year-old bartender, teacher and single mother woke up at 4:30 a.m. and she plans on getting home around midnight. That's if everything goes smoothly and a reporter doesn't keep her up talking all night.
She teaches sixth-graders at Clifford H. Nowlin Middle School in Independence, Missouri, a school that is 55 miles from her home, and bartends a couple of nights of the week.
"On a teacher's salary, it's tight," Sam said. "If I could pay all my bills with no worries, I wouldn't have to bartend. I don't make enough being on my own."
She has been a single mother of two off and on since she and her ex-husband separated in 2013 and then divorced in 2017. She also lost her mother and started the first year of her teaching career in 2013.
"Being a single mom? I don't wish that on my worst enemy," Sam said. "It's not impossible. Women do it all the time, but it's hard."
Sam said her two children, Reese and Braden, help her get through the hard times.
"You never realize how much you love someone until you have your own kids," Sam said. "There's so much love there, I can't explain it. I feel like good parents do everything they can to be the best they can be for their kids to be the best role model."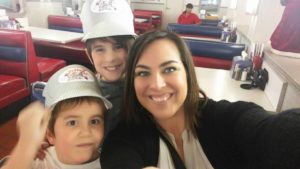 This love and desire to be a good role model has transferred from home to her classroom.
Sam went into education to inspire kids. She said she loves interacting with her students and enjoys that they keep her young and entertained.
"My heart pulled and tugged at education," she said. "There's enough people in the world to make you feel like crap. I wanted to be the one that made these kids feel good. Kids need someone to believe in them."
Sam sees the impact that a community in poverty has on students.
Data from the Department of Elementary and Secondary Education shows 84 percent of the students at Nowlin Middle School are eligible for free and reduced-priced lunch. This indicates there is a high level of poverty in the area, according to Nancy Boeles, communications coordinator at DESE.
"The National Center for Education Statistics considers schools to be high poverty if more than 75 percent of students qualify for FRPL," Bowles said via email.
Knowing many of the students come from low-income families, Sam said she does everything she can to make them more comfortable and feel safe in their learning environment.
Sam's 70 students shared their thoughts about their teacher via Google Form as part of their bellwork since a school policy kept a Muleskinner reporter from meeting them in person. Bellwork is the students' first assignment when they walk into Sam's class.
One student said Sam helps her students when they are struggling.
"she is awsome and she can relly help wen your  in a tuf spot," the student said in the Form.
Sam said she reaches out to her students in ways most teachers don't. Sam has a student who has been homeless the majority of the school year, but his family recently found a place to call home. Knowing this, Sam bought him a poster of his favorite football player, Cam Newton, to hang up in his new room.
"It's the small things, and those small moments make the difference. At the end of the day, it's about helping kids become good people," she said. "That's what teaching is."
This wasn't the only act of kindness she has shown her students.
Sam said she has given money to students to buy gifts for their family members, gives them thank you notes and has the students take turns eating lunch with her so she can get to know and connect with them.
"If I do enough good, eventually it'll pay off," she said. "I want to be a good role model."
Other students said Sam has taught them things like vocabulary words and how to write. Many students said she is nice, funny and has a good personality.
Other answers said she has taught them to be themselves, stay positive and to be kind to others.
In their words:
"She has taught me that I can't control other peoples actions but I can control my own."
"She has taught me many great ways to understand and use reading, writing and social skills. I also think over all she has taught me how to be a better person."
"She has taught me lot's of things, not necessarily just ELA & all that school stuff, but how to be more confident in myself & to not be that shy. Witch now i'm not shy at all."
Sam said the connections she makes with her students mean everything to her.
"I really feel like it is important to know the other story," she said. "Maybe our students are just doing the best they can with the tools they have. I'm always trying to think about where people are coming from."
Sam also said teaching goes beyond what she reads them out of a book.
"I want to inspire them to love to learn, which is extremely hard," she said. "I want them to find their dreams, their goals, their passions. I want them to find who they want to be and make themselves happy."
She credits Joanie Hartnett, associate professor of educational foundations, as a big inspiration because of what she taught her during her time as a UCM student. Sam graduated in 2012 with a Masters of Arts in teaching.
"She always told me that kids aren't always going to remember what you teach them, but they will always remember how you treat them," Sam said. "That stuck with me."
Hartnett described Sam as dedicated, caring and compassionate. She said Sam always had the best interest of others and was a wonderful student and now teacher.
Sam's life has been filled with financial struggles, relationship problems and a career that can be exhausting and stressful, but she still keeps a positive attitude.
"Every day I just wake up and really think about how grateful I am," she said. "Gratitude gets me through the moments that don't seem to go away."